International colaboration on seabird bycatch
Our Seabird Conservation Advocate, Karen Baird, was in Blenheim and Kaikoura running an international seabird identification course for BirdLife International. Better collection and sharing of information can help us reduce fishing bycatch to zero.
It is essential to know what seabird species are being caught, where, and how many, to be able to take international action to protect them. The Seabird Identification course (paid for by our BirdLife Marine Programme), brings international fisheries scientists from the Pacific together to learn and share information on seabird bycatch.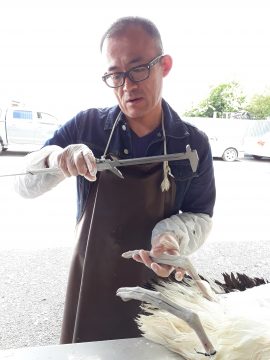 Most of the seabirds in the Pacific high seas killed by international fishing fleets are present in New Zealand, so we're in a perfect position to run Seabird ID training here where we can observe most of the birds.
I organise the courses – with expertise from other sources like Wildlife Management International, who run the necropsy programme for Department of Conservation. Necropsy is where all birds killed and brought back to land by a fisheries observer are identified, and other vital data is collected.
The more information we collect from fishery bycatch, the more we can prevent it. International cooperation is essential.
The ultimate goal of the Seabird ID courses is for fisheries bycatch to be an extremely rare event – approaching zero and not contributing to the decline of our albatross species.
This year, the course was attended by Kazuhiro Oshima the Director of the Japan Far Seas Fisheries Research Agency. Oshima-san was keen to develop a deeper understanding of bycatch issues and build collaborative relationships in New Zealand. His background is as a fisheries scientist, and he was an excellent student. He enjoyed the work, and seeing live albatrosses for the first time.
International cooperation and relationships are important in the context of fisheries bycatch. Making change at an international level, to get better legal requirements on fishing vessels, requires international agreements. To get agreement you need understanding of the issues. By working together, we can gain that greater understanding.
It also means that when we meet at international meetings, we know each other and can be more open and frank in our discussions.
In the observation part of the course, we saw a huge variety of seabirds – enjoying an extended cruise on an Encounter Kaikoura vessel – including both Northern and Southern Royal albatross, Gibsons albatross, Salvins and white-capped albatrosses, black-browed and Campbells albatross, white-chinned petrel, Westland petrel and cape petrel, Buller's shearwater and grey-faced petrel. All of these species are bycaught in New Zealand and outside of New Zealand.
One problem with bycatch identification at the moment is that wandering albatross species (we have three in New Zealand) are not identified to species level. That's unhelpful when trying to develop evidence to change mitigation requirements at an international level. For example, we believe many female Antipodean albatrosses are being caught at a latitude where there is also intensive fishing activity from distant water nations (such as Japan, Taiwan and China). In New Zealand, our Antipodean albatross is critically endangered. We want to move the boundary for where mitigation on fishing boats is required north, from 30S to 25S. Better evidence from fisheries observers will help us to achieve this.
There are three more international scientists coming to do the Seabird ID course next month – two from Taiwan and one from Indonesia. The more international scientists we have working together to learn about fisheries bycatch, the better our mitigation measures in the Pacific will become!