Drawing on nature
Artist Hannah Shand has always loved nature, so much so she has decided to quit her day job and use her art to encourage others to protect our native wildlife. Here she tells Forest & Bird's Jess Winchester what prompted her to make this life-changing decision.
What do you love about nature? What inspires you most to produce your artwork?
Inspiration for me comes from the tiny little details on animals and plants. The miniscule feathers, matted fur, cracks and scales; they're all things that inspire me and make me excited to draw. I love the feeling of serenity and freedom I get from being in nature, I find it brings people closer, and for me it brings me closer and more connected to my art.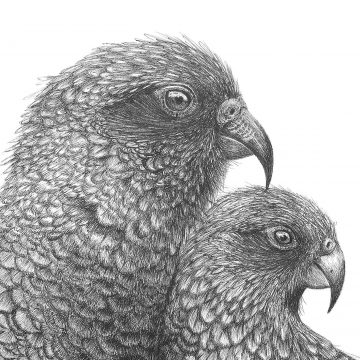 Why do you want to support Forest & Bird through your work?
I admire the important work Forest & Bird achieve, taking conservation a step further with projects such as Bird of the Year. It's a privilege being able to engage with Forest & Bird and I am honoured to be able to contribute to the conservation of New Zealand's flora and fauna.
What is your favourite place in New Zealand?
One of my favourite places in New Zealand is Te Pukatea Bay in the Abel Tasman. It's a small secluded bay just over the hill from Anchorage on the Abel Tasman track with golden sand and clear blue water. It's a little piece of paradise. I remember the feeling walking down into the bay, I was in complete awe of how peaceful and idyllic Te Puketea is.
Which of the native species has a particular place in your heart?
One of my favourite natives has to be the kākā. I love their intelligence, curiousness and cheeky nature, and also the amazing coloured feathers under their wings.
How do you want people to feel about your work? 
The animals' characters are unique. I want to portray their beauty, quirks and a bit of their personality into my art. I want people to feel this and have an emotional connection to the animal, which I hope in turn will make them want to help protect them.
Who has inspired you the most?
My mum has been a massive inspiration to me. Ever since I can remember we have raised sick and injured animals and released them back into the wild. She has this amazing gentle way with animals that I really admire. She also has an incredible eye for detail and will always give her honest opinion when critiquing my art.
If you'd like to purchase Hannah's limited edition prints of the kea and the huia, please visit http://shop.forestandbird.org.nz/