Policies for the planet
Forest & Bird has published a three-year plan for nature ahead of September's general election.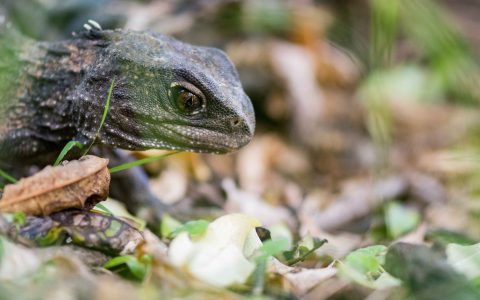 New Zealanders love nature and want to protect it. It is part of our identity, the foundation of our economy, and what makes this country special. In fact, nature is at the heart of everything we do.
But it has also reached breaking point.
More than 4000 of New Zealand's species are threatened with extinction, the oceans are depleted of life, once-mighty rivers are sick, and introduced predators are destroying New Zealand's priceless taonga – our unique birds, bats, ancient frogs, and lizards.
The climate crisis will make things worse. It will speed up biodiversity loss and put our livelihoods at risk. The future is already here with unprecedented wildfires in Australia and damaging storms in the UK.
But it doesn't have to be this way. We know investing in conservation works, and the decline can be reversed.
If we look after nature, it will look after us. For example, healthy predator-free forests can help New Zealand become carbon positive and reduce global warming. Concern about climate change tipped 50% for the first time in Colmar Brunton's Better Futures research last year.
The top worry for New Zealanders was the build-up of plastic in the environment (72%), while 64% were concerned about pollution in our rivers and oceans.
It's clear voters want better climate policies, a fairer economy, cleaner fresh water, more predator control, and stronger ocean protection.
Forest & Bird has drafted a practical and ambitious three-year plan for the next Parliament that will deliver on all of these priorities and more. It sets out a raft of key policies in five domains (see below).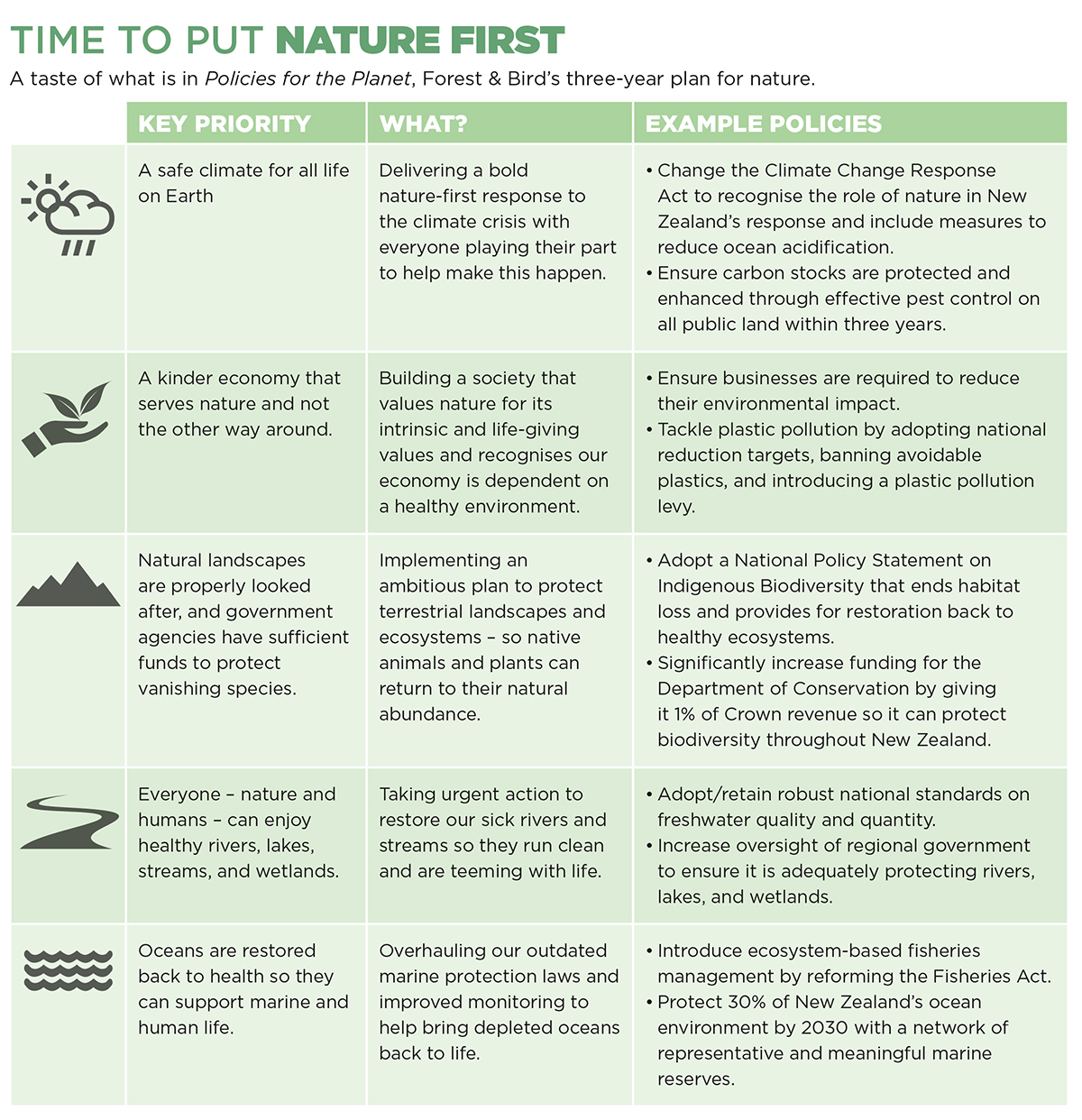 If implemented by the next government, these transformative policies will bring fresh hope for nature and set our economy on a genuinely sustainable course.
Over the next few months, chief executive Kevin Hague will travel around the country sharing Forest & Bird's policy priorities with the public during a series of Forest & Bird roadshows.
"This is the year to take urgent action to protect and restore what we love, now, before it is too late," says Kevin.
"In the run-up to the last election, the proportion of voters who said they would be taking into account the state of the environment when voting rose more than five-fold to 11%, and that was enough to have a significant impact on the subsequent new government's environmental policies.
"Today, that figure has risen to one in three voters, and we want politicians of all parties to reflect this groundswell of concern in their 2020 election policies. Forest & Bird is independent of any political party. We'd like to see all of them putting the environment first."
Progress has been made. Since 2017, the coalition government has given more funding for the
Department of Conservation, passed the Zero Carbon Act, proposed freshwater reform (ongoing), and banned plastic bags.
But there is still so much more to do. Our country needs a bold and ambitious plan that puts nature first.
WHAT CAN YOU DO TO HELP?
Download and share Forest & Bird's Policies for the Planet.
Enrol to vote, and encourage all your friends and family to do the same.
Talk to your local MP about the policies you'd like to see their party adopt.
Donate to support our Vote for Nature advocacy.
Vote for nature in the 2020 general election!