"Why You Should Vote for My Bird"
Voting for Bird of the Year ends this Monday at 5pm and our amazing campaign managers have fought tooth and nail (or feather and claw) to get their bird ahead.
We've seen videos, memes, scandals, even smear campaigns. But at the end of it all, it is their stories and passion for birds that could win hearts and minds. Here are some last ditch pitches from campaign managers to explain why their bird deserves your vote.
Stephanie Galla, Team Kakī
Kakī should definitely win your vote because they're tough as nails. Even though they appear delicate with their stilt-like legs and skinny bills, these Staunch Cantabrians tough it out every winter in some of the coldest habitats in New Zealand. There are only around 100 kakī left, and still not many people know about our favourite "All Black" bird. A vote for kakī is a vote for our rarest wading bird and the amazing braided river habitats they live in!
Emma Rawson, Team Kākā
The team at NZ Life & Leisure magazine are championing the kākā for the bird of the year. Digital editor Emma Rawson and Insider's Guide to NZ editor Cheree Morrison are running a cheeky campaign in the spirit of this boisterous bird. On a recent research trip to Stewart Island, the kākā stood out from the abundant bird life because of its outgoing nature. "On an island where pets are kept on a short leash to protect the native birds, kākā were like puppies with wings —playful and occasionally naughty," says Cheree. Kākā is currently New Zealand's third-most popular parrot, but Team Kākā would like to remind New Zealand that it's better if a kākā, kakas on their car than if a kea, kea-s it. Also, you can't spell kākāpō without kākā. The kākā is also turning heads in Hollywood, receiving the endorsement from a well-known talk show host and starring in an upcoming sci-fi film.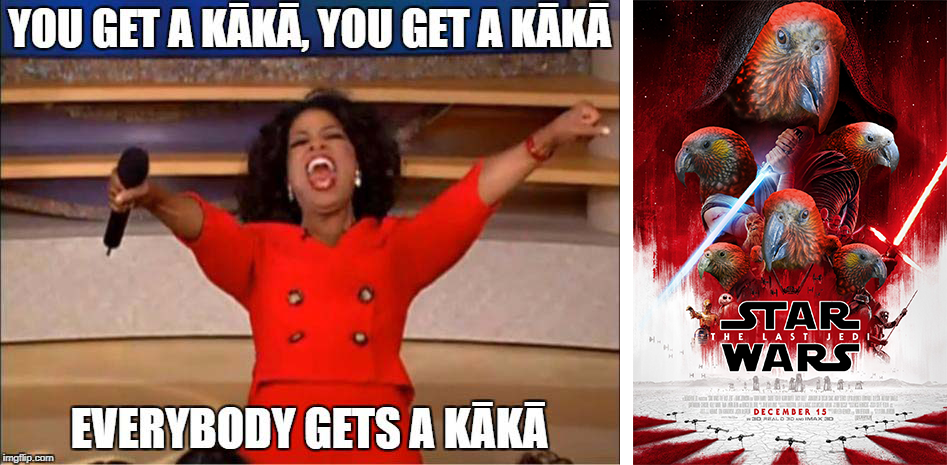 Fiona Powell, Team Weka
Ask any tourist and they'll tell you about their encounter with the cheeky weka (and how it was the highlight of their trip). Even if they think they saw a kiwi or the weka stole a packet of biscuits from them (true story). Sadly these curious, smart and feisty birds are very vulnerable to predators, motor vehicles and climate change. Throughout New Zealand, all weka species experience population booms and massive crashes. A world without weka would be very sad indeed, but imagine if we could all experience weka on our doorstep. Let's show we care and vote weka for Bird of the Year in 2017!
Amber Calman, Team Black-billed Gull
I'm a young birder and this year I am raising awareness for the black-billed gull, also known as tarapuka. These beautiful birds are the world's most threatened gull and are endemic, meaning they are found nowhere else in the world. Bird of the Year has been an excellent opportunity to raise awareness about our native birds, including my favourite (tarapuka) so please help spread the word and vote black-billed gull! Oh – and keep your distance if you find a nesting site.
Now over 300 votes. Thank you all so much for voting Black-Billed Gull! #votegull#birdoftheyear
Pic © Rebecca Bowater pic.twitter.com/hovMo89gkY

— Vote Black Bill Gull (@VoteGull) October 12, 2017
Tim Onnes, Team Kererū
The Kererū, your portly, jovial and majestic feathered friend needs your vote for Bird of the Year, 2017. Your native pigeon is the every bird, the bird of the people. They work hard to spread the seeds that are vital to the regeneration of our native forests. They eat the fermented fruit that no one else will. They thwomp gracefully through the trees like no other bird does. Their heads may be tiny in proportion to their girthy bodies, but their hearts are large and full of love for all of you. Make your vote for Bird of the Year, a vote for all of New Zealand. Vote Kererū.
George Hobson, Team Banded Dotterel
The adorable Banded Dotterel needs your support in Bird of the Year 2017! Why? Because of their tiny, camouflaged scrape nests, these little birdies are super vulnerable: to predation by hedgehogs, cats, stoats, rats and to people – someone driving their 4WD or walking their dog on a beach wouldn't have a clue if they disturbed a Banded Dotterel nest. Therefore, it's super important to raise awareness of the Bandies, and you can help by voting Banded Dotterel in #BirdOfTheYear. As Jane Goodall said, "Only if we understand can we care. Only if we care can we help. Only if we help can they be saved".
Cathy Casey, Team Pukeko
When I came to New Zealand from Scotland in 1987, I instantly fell in love with the colourful native pukeko with its long pink legs, its unique walk and distinctive call. I have been photographing it ever since and post a daily pukeko pic-me-up (PPMU) on my Facebook page. I commune with my puke pottle every weekend. I never threaten or entice. To them I am just the human with the big lens!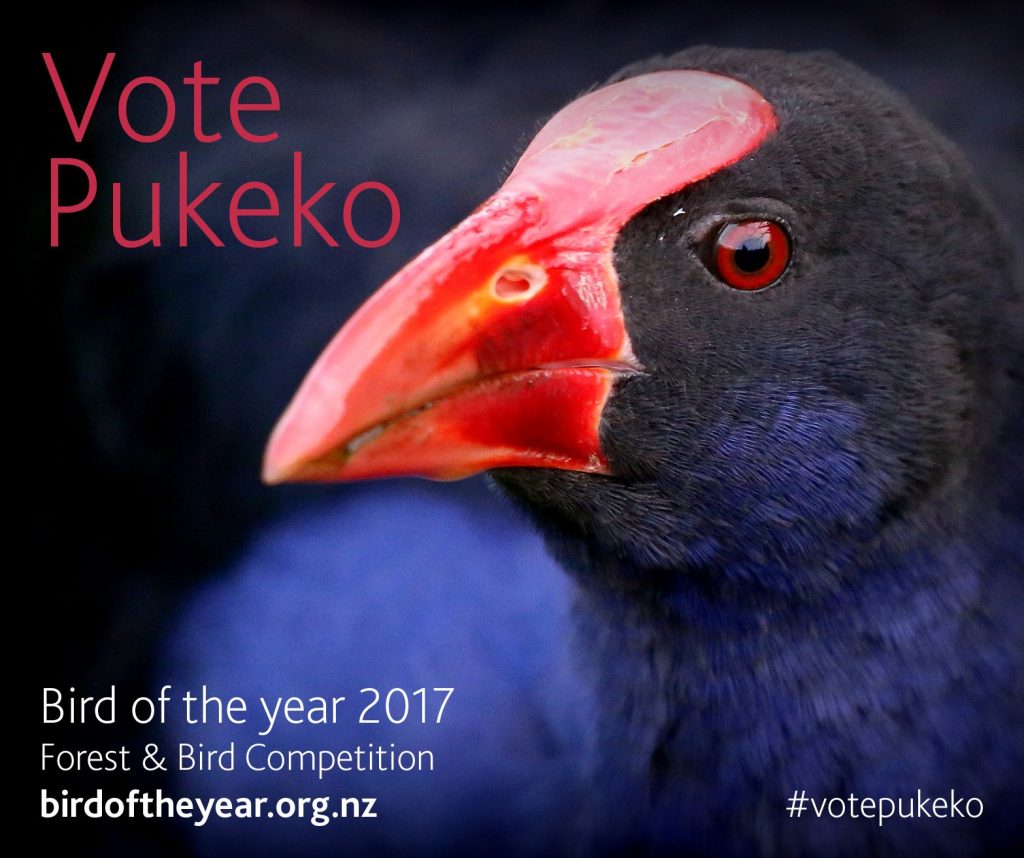 Laura May, Team Kea
The kea is the world's only alpine parrot, a true native mountaineer they are incredibly dynamic, tough, intelligent and play an integral role in the alpine ecosystem (seed dispersal). This mountaineer parrot is only found in New Zealand's Southern Alps. Thousands of years of evolution on our land has shaped them to be the incredible bird they are today. Disappointingly, the kea is one of our most endangered bird species with estimates of just 3000-7000 remaining. Kea face predation, persecution, lead poisoning and numerous other threats in the wild. What ultimately is most admirable about the kea is that they truly are one of New Zealand's great characters.