Saving Our Freshwater
Driving from Christchurch to Ashburton I was struck by the sheer number of cows and irrigators all solidly packed into paddocks. The long bridges and sprawling rivers reminded me of being told as a youngster to hold my breath as we crossed the longest of them. As I turned inland from Ashburton towards Mt Somers, I again held my breath as I observed bone dry riverbeds and creeks, one after the other.

Over the next few days I learned about the extent of troubles facing our rivers and lakes – irrigation, intensive farming, nutrient run-off, pollution, water extraction and dams. It left me wondering what powers ordinary people have to stop development affecting our rivers. Could individuals influence government policy and save beautiful rivers like this – and the plants and birds they support?
During my three-day visit Forest & Bird members Ines Stäger, Peter Howden, John Waugh and Fraser Ross guided me around the region, spoke about their love of the environment and their concerns for its future. From them I learned about the role of glaciers in forming alpine lakes and shaping the land. I learned to look beyond the 'picture perfect' views and gain an understanding and appreciation of what I was actually seeing.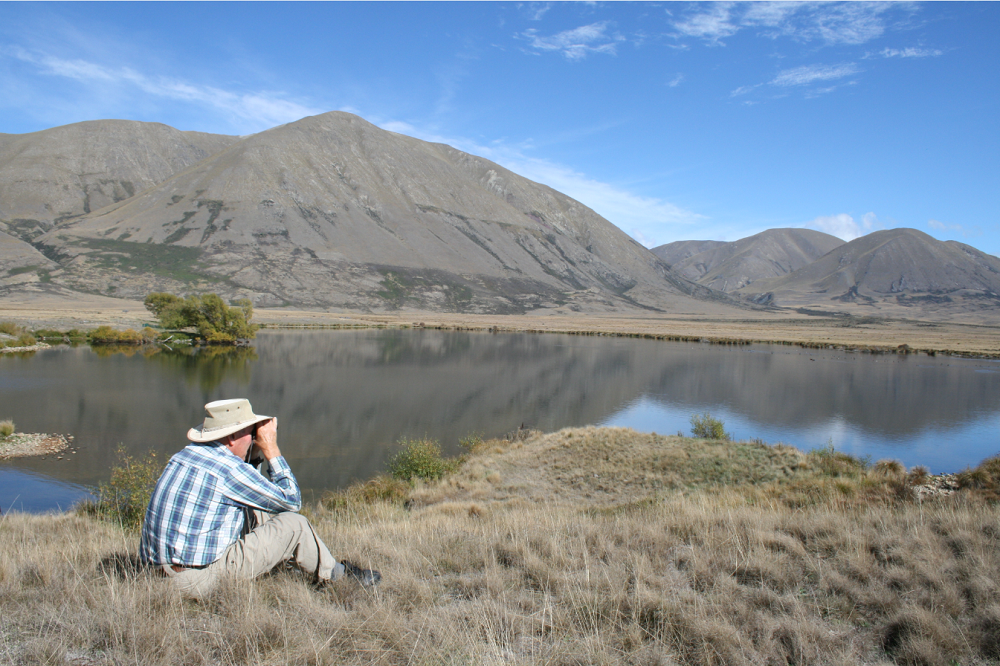 I heard about the tenuous relationship between our freshwater systems, biodiversity, irrigation and farming. Talking to farmers I alsogained an understanding of the importance of irrigation to the viability of dairy farms, and their genuine desire to find a workable solution to irrigation and freshwater sustainability.
Ines Stäger, who sits on Forest & Bird's Board and is a member of the Ashburton branch committee, said: "While Jo's trip focused on the Canterbury region and its problems, it's important to understand other parts of New Zealand are also grappling with freshwater issues and the effect intensive farming is having. It's polluting our waterways. Freshwater quality is a major issue for all Kiwis, not just Cantabrians."
One highlight of my visit was seeing the Rangitata, one of the globally rare and ecologically significant braided river systems in New Zealand. A braided river flows in multiple mobile channels across a gravel floodplain carrying a high sediment load. The channels repeatedly branch and rejoin creating an intertwining pattern of low islands and shallow bars.
Their wide shingle beds, numerous snaking water channels and highly variable flows provide habitat for several of New Zealand'sendangered braided river specialists including the wrybill, black stilts, South Island pied oystercatchers and the black-fronted tern.
Braided rivers in Canterbury account for about 60 percent of the braided river habitat of New Zealand and parts of three of them are protected through the Resource Management Act (RMA) and water conservation orders (WCOs) safeguarding their outstanding recreational or ecological values.
Human impacts include deforestation, dams, water extraction, gravel extraction and farming on river terraces (see p18). The planting of willows and other weeds has changed the dynamics of the waterways. Wetlands linked to braided rivers are also under threat from intensive dairying. Cattle and deer can also severely deplete wetland vegetation and turn these sensitive areas into a messy bog.
Pressure on existing legal protections
WCOs were introduced in 1981 following a public outcry against plans in the 1970s to develop hydroelectric dams on almost every large river in New Zealand. WCOs are designed to protect our wild rivers and lakes against development pressures and declining water quality.
Generally WCOs only cover the main body of water and tributaries that flow into it. That means the rest of the catchment, including rivers, lakes, streams, ponds, wetlands, aquifiers and geothermal water can be left vulnerable.
Protecting whole catchments as opposed to individual rivers is high on Forest & Bird's wish list but Ines Stäger says the Society is currently focused on fighting to keep in place the existing level of legal protections.
She said: "It's a constant battle to stay on top of what's going on and proposed legislation changes and how they may affect the environment. As a Society and as member groups we do what we can to protect the legislation we have in place, and halt the loss of more biodiversity."
Parts of some Canterbury rivers are even more vulnerable due to the introduction of the  Environment Canterbury Act (ECan) 2010, which made it easier for developers to challenge water conservation orders and have them reviewed. They can apply to change the conditions of
resource consent for water extraction – and there is no right of appeal to the Environment Court.
The braided Rakaia river in northern Canterbury was one of the first in New Zealand to be protected by a WCO. But it is constantly under threat from water extraction for hydroelectricity and farming, says Jen Miller, Forest & Bird's Southern Regional Manager.
She said: "The loss of democracy and the loss of our right to appeal to the Environment Court are concerning. It's better to have a slower but good decision than a quick but bad decision. Now there is no right of appeal – there is nothing." After spending three days seeing firsthand the issues facing Canterbury and the work Forest & Bird volunteers and staff are doing to protect our rivers, lakes and wetlands, it's clear ordinary people can and do make a huge difference. It is also clear there is still much more to do.
This article was originally featured in the May issue of the Forest & Bird Magazine. Join Forest & Bird and receive our quarterly magazine, which contains feature articles, news and photographs on New Zealand's unique plants, animals and wild places.
Join Us