Rock Wren — More Than Just Round
They may not be your traditional 'giant, round and flightless' New Zealand native, but Lucy Dickie and Crystal Brindle explain why pīwauwau (rock wren) still deserve your vote.
Let's face it, Bird of the Year has been dominated by the so-called 'round bois' who state loudly that being slightly-more-circular-than-average gives them the right to claim the title.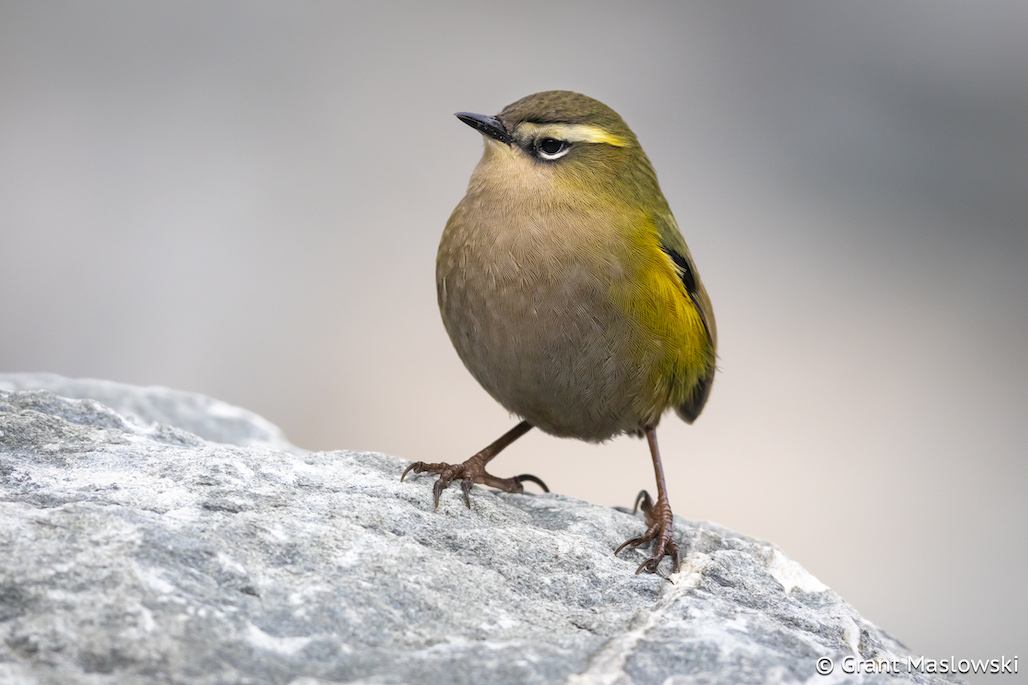 A quick look at the other campaigns easily confirms this:
Kiwi – check
Kākāpō – check
Takahē – check
Rowi (I'm confused about why they're separate from kiwi but anyway…) – check
Kererū – check
Meanwhile, the tiny pīwauwau/rock wren, one of NZ's smallest and most hidden-away birds, has remained relatively quiet so far. It's allowed its boisterous fellow avians to yell 'pick me' at the top of their lungs, hoping they'd go hoarse before the actual competition began.
I'd like to draw your attention to the fact that pīwauwau are actually one of these so-called 'round bois.' That lil pot belly ain't going anywhere and I'm sure some handy mathematical equations will confirm said roundness (Angus Jessep, if you please). But we've chosen not to rely on this tactic. Instead, we'll focus on their more unique NZ features.
Reasons why the Rock Wren is the #BirdOfTheYear:
– bad ass name 🤟
– sings duet with its lover
– bad at flying but bad ass at hopping
– only bird in NZ brave enough to live high in the snowy mountains
– critically endangered but making a big comeback thanks to 1080#TeamRockWren pic.twitter.com/r9u3Sv3fqf

— Thomas Mead (@thomasmeadnz) September 30, 2018
First things first, they can fly!! That might not sound too strange but, of the five birds listed above (well, four considering rowi really are just kiwi), all but one of them are flightless. Meaning that pīwauwau are one of our unique-est 'round bois.' But, as mentioned earlier, it's not all about being round.
They're also New Zealand's only true alpine bird (if kea try to tell you otherwise, they're lying and should be disqualified on principle). Whilst most other so-called alpine birds migrate to lower elevations during winter, pīwauwau stick it out and remain above the treeline. Although this shows they have a tough, persevering nature (all good things, am I right?), it hasn't been too useful when it comes to conserving and raising awareness about them. You won't spot these guys flitting about your garden or making powerlines sag. As such, they've slipped through the previous Bird of the Year competitions relatively unnoticed.
For 2018, how about we make a contender that truly reflects Aotearoa's nature our Bird of the Year? We're not a country that would sassily strut about, shake its tail feathers and demand to be handed the prize, simply by chanting 'r-o-u-n-d' on repeat.
(On a side note, I was horrified at one contender who, upon hearing that Bird of the Year was coming up, suddenly developed the ability to use tools. Seriously!! #TryHard).
Instead, how about we vote for a small, tough fulla that minds its own business and remains relatively unknown to the majority of the world (I bet pīwauwau would be left off the map!)? Let's shine the spotlight on this tiny bird and draw attention to its plight and what we can do to help.
And if that hasn't convinced you, I should probably mention that the translation of pīwauwau is 'little complaining bird' (ironic, considering how many people know nothing about them). So, unless you want to listen to the 'little complaining bird' complaining for the next year (with my help), I suggest you do us all a favour and vote Rock Wren. They're also adorable and endangered but hey, I'll leave that for another blog post. Stay tuned.
Bird of the Year voting closes at 5pm on Sunday the 14th of October 2018.
Vote Now