Operation Black Petrel
Last year, Forest & Bird member Emma Cronin received funding to deliver her Black Petrel Education Project to schools across New Zealand and further afield.
Like many of our seabirds, the Black Petrel, or Petrel Negro – sensibly – spends the winter in warmer climes, in this case Peru and Ecuador, before returning to NZ in the summer.
Sadly, it faces similar pressures from fishing, so Emma Cronin has made it her life mission to tell the world about the plight of this threatened bird to help bolster its numbers.
In this blog, she gives us a detailed account of her three week Peruvian school tour. 
Touch-down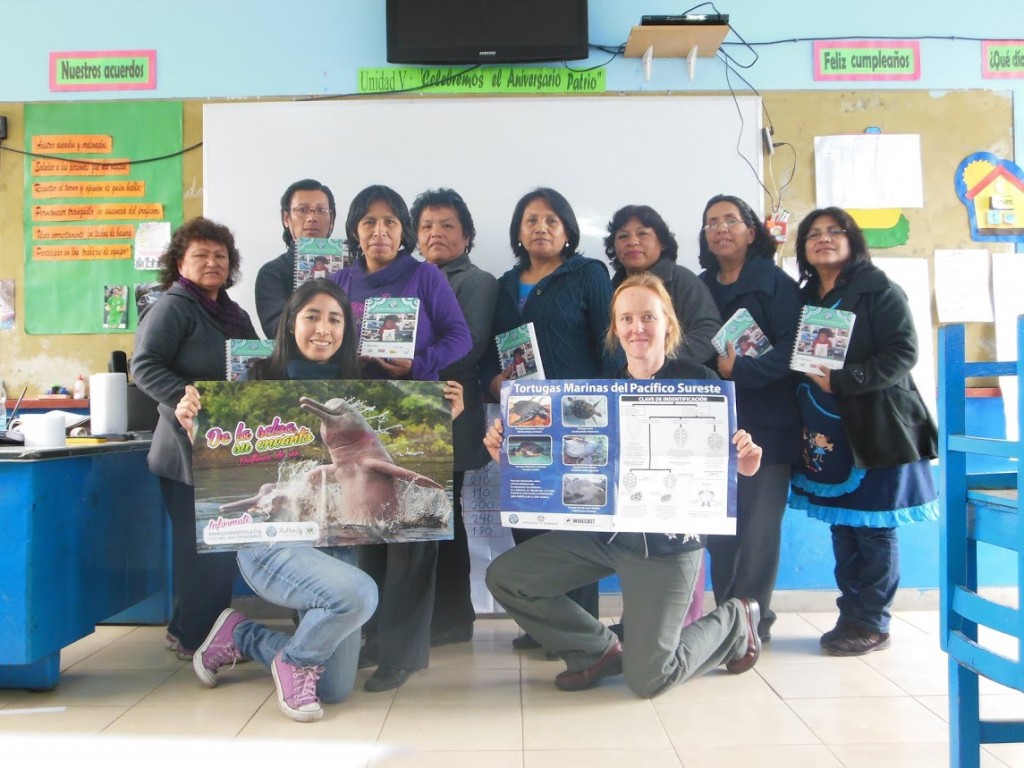 Possibly like a black petrel after its 11000 km journey, my arrival in Peru is met with an enormous sense of relief. I am finally here, and have certainly landed on my feet.
I am taken under the wings of the staff at Pro Delphinus, a not-for-profit conservation organisation based in the seaside district of Miraflores, Lima. The organisation began in 1995 doing turtle research, but has rapidly expanded to protect all things in the 'marine conservation' arena – sea turtles, cetaceans, seabirds, sharks, marine otters and more recently the pink river dolphin.
A large component of their work involves monitoring target and incidental fisheries catch; however every project has an educational component. Through seminars, interactive talks and participation with school projects tailored for school children, fishermen and their families, the education program aims to reduce the capture and consumption of threatened and endangered species.
The quiet office is in stark contrast to the chaos outside. The streets are flooded with multitudes of people careful to avoid the swerving, honking, lurching, cars, trucks, buses and taxis that manoeuvre along the streets. I get a good dose of Lima's traffic chaos on my second day, travelling via three public buses to present to teachers at a local school. The intensely built-up areas continue for most of the journey interspersed by barren rocky hills, which drop abruptly to the coast. There are virtually no trees, or in fact any type of vegetation, and the sun is hidden behind a low veil of clouds.
The primary school we visit consists of a concrete courtyard surrounded by two-story buildings painted bright blue. Diane presents her talk on sea lions and seals, and then introduces me. I stumble through the presentation with my broken Spanish, but the teachers are very considerate and patient. They are interested in what I have to say and ask many questions. After the presentation we walk to the port so I can have my first look at the coast. The bay protects hundreds of brightly painted fishing boats and I spot Peruvian pelicans, gannets and an Inca tern.
We begin our long journey back – I'm tired today – perhaps the jet lag has not yet passed. Already, it has been great to be totally immersed in a new country and to be swept up into the activities of Pro Delphinus and their passions for marine conservation. I look forward (with nervous anticipation) to my next destination, Piura, where the work truly begins.
Week Two
Imagine being a wee fish during a big 'boil up' and being attacked by hungry seabirds from above. Now imagine those seabirds as a pack of 16 year old school kids racing towards you as the 'fish', holding a bag of popcorn to imitate their food source. Put the entire image into a foreign country where you have a limited understanding of the language and you're pretty much experiencing what I have done today. At one stage we had most of the school looking on to see what all the fuss and fun was about. Overwhelming – yes, but totally awesome and incredibly rewarding too.
This was the black petrel relay game I devised, facilitated in a secondary school in Sechura, on the northern coast of Peru with the help of Pro Delphinus staff, Astrid, Sergio and Dyann. The students worked in teams of three; two parent 'birds' protecting and feeding their single 'chick' to try and grow the chick to the fledgling stage the fastest. I was the boil up location, holding a bag full of popcorn, which the hungry 'adults' descended upon. They certainly did. We had popcorn flying all over the place and chicks 'fledging' successfully, with much fun and laughter.
Meanwhile Astrid managed two groups of students playing the 'Flight of the Taiko' game, a game I developed in New Zealand to illustrate the lifecycle and threats to black petrels. They were gutted when they lost a life and elated when they managed to save one. We concluded with a drawing competition where they had to draw something they had learnt about the black petrel. The pictures were really great and clearly demonstrated they had learnt a lot.
This was all reinforcing information I had presented to the students on the lifecycle and threats this seabird experiences during its summer breeding period in New Zealand. Why present this information in Peru? The black petrel is migratory and sensibly spends the NZ winter in the warm climate of northern Peru and Ecuador. Currently, there is very little awareness of NZ being a neighbouring country and even less that we 'share' this and other threatened seabirds. So I'm here to spread awareness about this bird and the importance of protecting the ocean resources it relies on.
To date I have presented to two schools and a University in the Piura region. Travel between locations involves squeezing into a series of taxis, moto-cabs, minibus and buses with our education kit in tow – a taxidermied black petrel, large cardboard cylinder with the game inside and our projector, computer and handouts…its quite a mission.
The journeys are usually at least one hour, driving past villages interspersed with largely agricultural land including fields of rice, cotton, potatoes and corn. This is all irrigated as there is only 10cm of rain a year here. Otherwise it's pretty barren, and even more so further south of Lima. Outside of the main metropolis there are many stray dogs scavenging through the extensive rubbish thrown along the roadside, the occasional horse and cart and yet still lots of taxis, moto-cabs and mini buses.
There is a diverse mix of the very new, progressing at a rapid rate, with the very old, adhering relentlessly. There are flash malls filled with the latest technology next to dusty unsealed roads and broken pavements, the newest of cars speeds past a near dilapidated pedicab. Sergio explains the government is very pro industry and development, but provides limited support for environmental issues. I am told there is very little waste management, minimal regulations regarding pollution, and that some industries dispose of their effluents directly to the ocean.
Between presentations we visit several 'ports', as I will also be presenting information to fishermen. There's about 9-10 thousand vessels along the coast of Peru, and literally millions of smaller ones. We visited a small port, full of brightly coloured, wooden fishing boats on anchor immediately out to sea. These are mostly trawlers and gill netting boats, but long lines are also used, depending on the season. Pelicans and two species of gulls gathered on the shoreline. It was nice to be in the sea air and away from the hustle and bustle of the city. So far no-one I have spoken to can clarify if they have seen a black petrel – it is comparable to the white chinned petrel and Westland petrel – all similar sized and black, making it difficult to differentiate between species, especially out at sea.
It's been quite a full on time – mostly because of my limited Spanish and trying to communicate my work, but Astrid and Sergio have been brilliant. Its north tomorrow, to Zorritos to present to the Pescadores, or fishermen and see what information they can provide to us about this enigmatic bird that links two very different countries.