On New Zealand's 3,000 kilometre Te Araroa Trail
In the summer of 2017, Forest & Bird committee member Stefan Fairweather took six months off work to walk the length of New Zealand on the Te Araroa trail. He has written a book on his journey entitled "North to South".
Kia ora from Christchurch,
People often ask me "why did you do it?" and secondly "was it difficult?"  There are several answers to the first question.  A love of New Zealand, a love of hiking and the desire to be challenged.  And the answer to the second question? No, it was not difficult.  We can often think something is difficult, looking at it from the outside.  But the reality is, if you are passionate about something, it's rarely difficult.  Not without its challenges, of course, but not difficult.
When you walk 3000km largely by yourself, you have a lot of time to reflect on what's important in your own life and the world at large.  I don't claim to have had any epiphanies or attained enlightenment on my Te Araroa (TA) journey, but, before starting I harboured some ideas and values, and walking the TA solidified these ideas into resolutions.  I have always had a passion for conservation of the precious little that remains of our wildlife.  I've financially supported F&B in the past, but decided I wanted to become more involved.  Since returning to Christchurch, I have been elected to the committee of the North Canterbury branch for F&B, and with a group of equally like-minded and passionate volunteers, we are working hard for nature.
Another thing that became clear on my hike is that I realised I really like walking.
I'm no stranger to walking – I aim to spend at least 40 days each year hiking and camping in the forests and mountains of New Zealand.  But this three and half month prolonged walking tour made me appreciate all that we don't see from the airplane window, or even the car window.  What took me 102 days to walk could have easily been done in an airplane in less than half day.  By slowing down the pace of my holiday, I appreciated things I normally wouldn't.  Priorities became different.  Where would I sleep tonight?  Did I have enough water?  What would I do if it rained?  Food, warmth and shelter; these were the things I focused on.  All the time surrounded by the beauty of NZ's outdoors.  I am now trying to convince my wife to join me on the 4500km Pacific Crest Trial in the USA in five year's time.
Other things stood out for me on my TA journey; the desperate hope of seeing a kokako in Pureora Forest  – no such luck! Clouds breaking over the summit of Mt Pirongia.  An almost prehistoric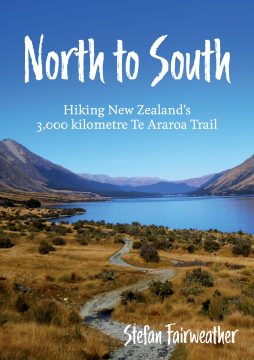 appearance to the forested Taramakau Valley from Harper Pass.  There is so much natural beauty in NZ, and this is what made my walk.  All of these forests and wildlife need a voice.   That is why I support Forest and Bird.
I'm looking to bolster pre-sales of my book through the PledgeMe website where you can order copies.
The book will be printed and ready for distribution at the start of December.  You can read about "North to South" on my website.
Ngā mihi, and thanks for your support, and lets all keep campaigning for nature.
Five percent of all profits from Stefan's book will go to each of the Te Araroa Trust, Forest & Bird, and the Federated Mountain Clubs of New Zealand.