Conservation station
If the directions had just said "Turn off State Highway 4 and drive to the very end of Oio Road" I would have got there much sooner.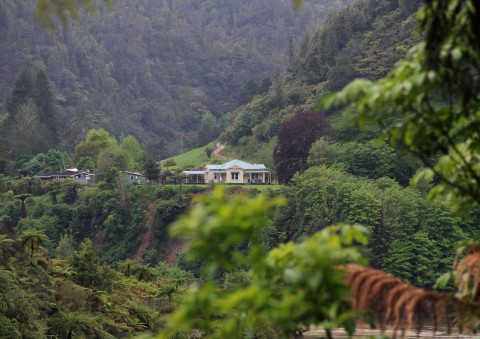 Our small convoy of cars lost touch with other, one went up and down State Highway 4 looking for Oio Rd, another was going up and down Oio Rd, and the participants of the other car imploded into an argument over the best direction to take.
Whakahoro is remote. It's an old settlement tucked into the junction of the Whanganui and Retaruke rivers. In Whakahoro there is a DOC campsite, plenty of history and the Blue Duck Station.
Dan Steele runs the Blue Duck Station. It is a working farm, an eco-tourism venture, a brand of honey and a conservation project. I met Dan at Forest & Bird's 2012 Face up to the Future Conference where he was one of the speakers. Since that time I was keen to travel north and check out his Blue Duck station.
From the moment that my stress from the journey lifted I realized that I loved this country. It is beautiful and for me nostalgic. I happily worked on farms as a teenager, the bush looked abundant, the air fresh and fragrant, and the jagged peeks lining the valley looked unforgiving and clear that nature wasn't to be easily tamed. There was energy in this environment. An up-an-at-em feel that I had lost living in the city.
Each morning a mist would lie romantically in the valley and like a conjurer revealing a dove from his hands it would gently part to reveal the hot sun and blue sky. Each morning, before I was up, my kids would've put on their gumboots for a visit to see the horses in the paddock next to our lodge. That was great. In town it would be straight to a screen. This was a break for everyone.
At Blue Duck we kayaked, horse trekked, and went on 4wd bush safari. In everything we did our blue duck guides talked passionately about the colourful history of the Whanganui River, Whakahoro and the birds and native plants on the station. Great people the blue duck family. Easy-going, multi-talented (cooks, horse-riders, jet-boaters) and good fun. It was nice to be looked after by people who are hospitable yet not hospitality people.
Dan's vision is for New Zealand to be the world's conservation project. He wants New Zealand to live the 100% Pure brand, and he's proving that it can be done. His working farm complements the adventure activities, honey production (Blue Duck Manuka Honey) and a comprehensive conservation programme. I should know about his vision as he gave us a presentation after dinner one night. It was great that he did so. As guests we learnt what our hosts are about and why Blue Duck were doing things as they did.
Hard not to agree with Dan, and respect that he was walking his talk. The conservation programme was impressive. The 5 or 6 long trap lines (450 DOC200s and Good Nature A24s ) around are plotted clearly on a Google Earth application. Visitors can sponsor a trap and via Google Earth view a photo of their trap and see its kill statistics.
On the bush safari we saw a regenerating hillside. Regenerating since Dan took over the farm. It might not have been great pasture country, but he's still taking a financial hit letting it regenerate. Dan takes his role of guardian of the land and wildlife seriously and so do his staff.
Blue Duck Station could be any New Zealand farm, and from first glance it is. Dan wears his oil skin like any farmer, but he isn't like any other farmer and it's not just any farm its Dan's, and it's one way forward not just for farming but for New Zealand.