Cruise for a Cause Milford Sound 2016
Spectacular Milford Sound. It is hard to describe it without resorting to clichés. It is almost too beautiful, it really does take your breath away, and it is easy to feel a sense of insignificance in the shadow of the towering cliffs that protect the Sound.
"I will remember this trip for the rest of my life"
"This certainly puts things in perspective. It's just so peaceful."
"It has been great to spend time in such a special place with likeminded people. This is a reminder why I support Forest & Bird."
The group of Forest & Birders have been chattering and there has been lots of laughter as they have got to know each other on the coach from Queenstown. They have lots in common and even the solo adventurers have quickly made new friends over their shared love of nature and their excitement about the cruise.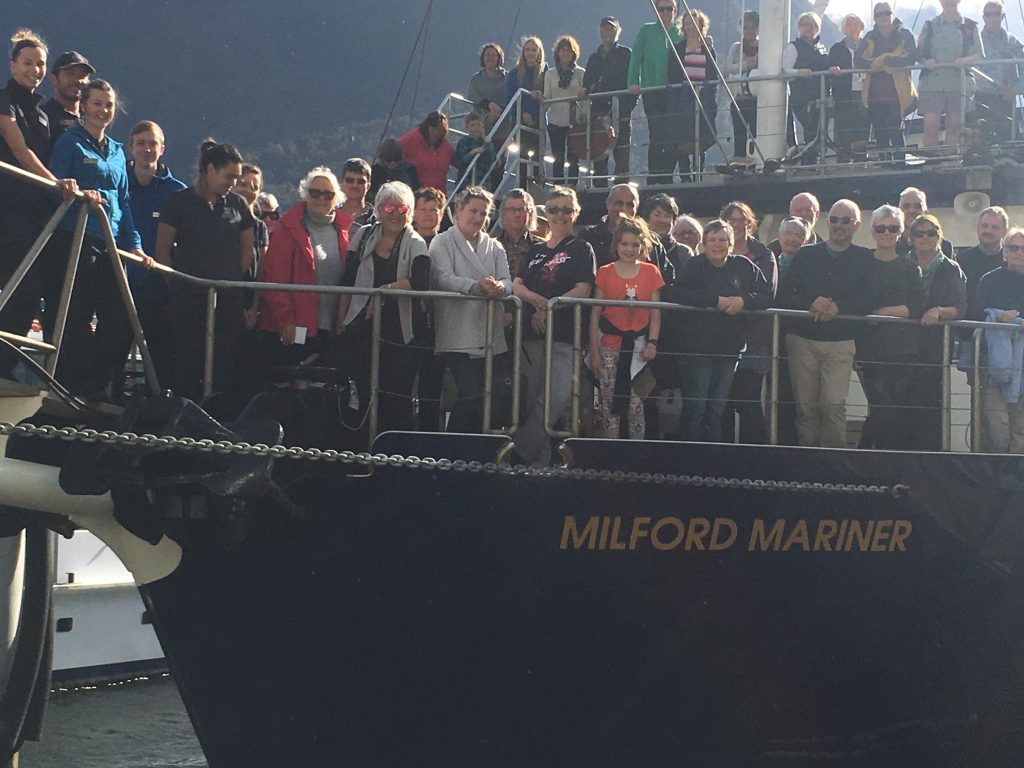 On board the boat we are given steaming mugs of coffee, tea and hot chocolate, and fortified by muffins we clamber onto kayaks and small boats to explore the Sound. One group is fortunate to eyeball a tawaki penguin on the rocks but for the rest of us, the chance to get out on the water in the late afternoon sunshine is more than enough. Our guide is keen to share her knowledge of the wildlife we are seeing and steers the boat to areas of the Sound you would never normally see on a standard tourist trip.
No other boat has a licence to moor up in the Sound overnight and warmed up and back on the boat our fellow passengers slip outside to marvel at the setting sun and the sparkle of the starlit sky.
Dinner is a three-course buffet. I think I counted five desserts. And stuffed to the gunnels we roll, rather than walk, to the lounge to hear award-winning photographer Craig Potton speak of his passion for conservation and photography. Cut him through the middle and it will read "activist" – he tells us of petitions and protest marches and, thrown in for good measure, how we can capture the beauty of Milford Sound on camera. It is a great ending to an incredible day in the Sound.
After a cooked breakfast, we make the most of time left on the water as the boat's skipper guides us towards the sea. Some of the group think they see an albatross. The Real Journey's crew are on hand to answer any questions about the wildlife and love to talk about the history of conservation in the Sound.
We talk about our favourite moments of the cruise. The night before, Ella who is one of our Kiwi Conservation Club members, gave an impassioned speech about why we have to save and protect nature in New Zealand. This meant a lot. Every single dollar from this Cruise for a Cause is being donated to Forest & Bird to help to grow more young conservation leaders just like Ella. We are defending nature right now for the benefit of her generation but one day she and her friends in KCC will have to take on that responsibility and these funds will give them a great start.
It is the final few hours of the cruise. An occasional murmur indicates the identification of another bird, and a delighted shout as the boat is steered into a waterfall, but for the most part we are silent.
We are watched by a family of seals, slouched in patches of sunshine on the rocks. As the Milford Mariner glides through the water, the sharp wind cuts into our faces but no-one shows any sign of wanting to go inside. I feel like I am absorbing the Sound through my skin, storing it up as an antidote to the speed of life in the city.
One of my fellow passengers turns to me with a smile and I wonder if it's the same emotion that has made his eyes glisten. "This is what it's all about, isn't it?" he says.
Wish you were there? Join us on Cruise for a Cause to Doubtful Sound 2-3 September 2017. If you go nowhere else in New Zealand in your lifetime, you must go here. Even more remote and, some say, more beautiful than Milford Sound, a trip to Doubtful absolutely should be on your bucket list.
Early bird tickets at $500 (including coach transfer, accommodation, dinner and breakfast) are now on sale but numbers are extremely limited so book today to be sure of a place.
Book new to secure your place on our Cruise for a Cause to Doubtful Sound.
BOOK NOW