Geocaching – a great way to get into nature
Equipped with our cameras, a tripod and warm clothes, mum and I headed off for the Tongariro National Park, stopping at geocache sites along the way.
Geocaching is a great way to get out in nature, a fun way to exercise and a wonderful little hobby that can lead you to places you otherwise may never have visited.
Once at the mountain, our first trip was a sightseeing one up Mt Ruapehu on the chairlifts. We enjoyed taking photos of the beautiful, unique landscape of the mountain. I had never seen the ski fields in Summer and I really enjoyed seeing a different side to the geology which would normally be covered in thick snow.
As the fog settled in we enjoyed a quick snack at Knoll Ridge Café (the highest café in New Zealand) before heading back down the mountain to our accommodation for the night, Forest and Bird Lodge.
This beautiful, well equipped building is well situated for those that want to explore this special environment. There is something for the whole family close at hand and the views around the lodge are amazing. There are several short walks, an information centre with displays about the local geology, wildlife and volcanic history and the Chateau too.
Despite the rain we headed off along the Ridge Track to take in some of the alpine plants, and were greeted by a little Robin, a Tomtit and several Wax-eyes. We also came across what looked like a Pipet but we are still unsure as we had never seen one! We spent a lot of time just watching and photographing them as they were so entertaining.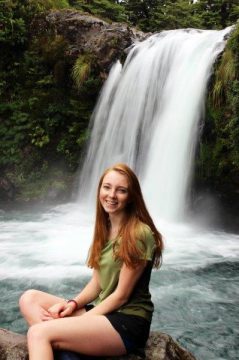 The next day we did several short walks – the Lahar Mounds Track, The Tawhai Falls Track and the Alpine Garden Walk along with the Ridge Track again. These were all great walks, short, varied scenery and beautiful in their own right. My favourite had to be the Tawhai Falls track with a stunning view of the waterfall straight on from the river bed. I have been learning how to capture flowing water on my camera and this was my test run so I was extremely pleased with how my photos turned out. I can also recommend the Taranaki Falls walk which I did a couple of weeks earlier as part of the Project Tongariro Mahi Aroha Summer Holiday Programme Photography Course.
We had a wonderful time out and about despite the weather showing us almost every different condition we could possibly imagine in Summer. The lodge really is a base from which to celebrate nature as it was so peaceful. This area really is magical.